E-Bike Manufacturer Tern Announces New E-Bike Geared Toward Accessibility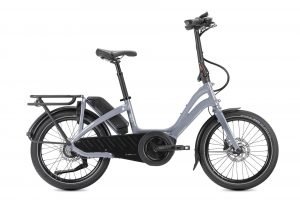 Bicycle manufacturer Tern recently announced its newest commuter e-bike the NBD. The company's newest project is an ultra-low step electric bicycle designed to accommodate riders who might not ride comfortably on a traditional commuter e-bike. This e-bike is versatile in its ability to appeal to your average rider while also being accessible to smaller riders or riders with physical limitations.
The NBD is accessible due to its low and long step-through frame. This design makes it possible for someone who can't get their leg over a traditional bike tube to do so. For someone with a nagging leg or hip injury, this design is the difference between riding an e-bike and not riding one.
This e-bike is also ideal for people who struggle to find a comfortable bike to ride. Many riders struggle to find an electric bicycle that fits them. They may not be able to get both feet on the ground when they are stopping or they may have balance issues that make riding a traditional bike difficult. The NBD is designed to have a low center of gravity and longer wheelbase which makes it much easier to balance and handle. The NBD also features adjustable seat height, cockpit length, and handlebar height making it accessible to a wide variety of e-bike riders.
Tern's newest e-bike is more compact making it easier to maneuver in tight spaces or store in a compact car or stored inside an apartment.
The NBD is expected to release in Q1 of 2023 with pricing starting at $3,899 and will include two different models the S5i and the P8i.
For more info visit https://www.ternbicycles.com/en/bikes/471/nbd.