Battle of the Bikes: Aventon Sinch vs Lectric XP
The Aventon Sinch and the Lectric XP e-bikes represent two of the most affordable and compact bikes on the market. These foldable e-bikes are easy to move and store and are perfect for a quick commute or scenic ride. Both of these bikes are great for casual riders or anyone looking for a good starter e-bike. Both the Sinch and the Lectric XP are great e-bikes, but which one is better?
Lectric XP

This bike is designed to perfectly blend quality and affordability. Starting at $999, it is one of the best e-bikes on the market for such a low price. It is the perfect e-bike for someone looking to take a quick 20-mile ride on a light trail or through the city. The
Lectric XP features a small 460 Wh battery with a modest distance of 45 miles. This is great for rides on flat roads but not great for speedily getting up hills.
The Lectric XP has fat tire wheels with foldable pedals and handlebars, making it an easy bike to store or move.
All handlebars are adjustable, meaning they are great for people of all heights.
The Lectric XP is a bit on the heavier side at 64 pounds. If you are looking for something light, you might want to look for other options.
Aventon Sinch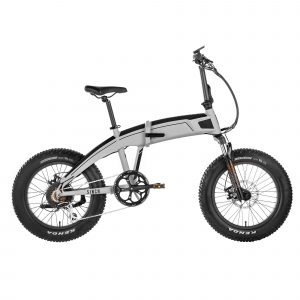 The Aventon Sinch is a really great city e-bike for people looking for more power and range. The Sinch gets about 70 miles per battery charge and can go up to 38 miles per hour compared to the XP's 20-mile-per-hour speed. The Sinch is the superior e-bike for anyone who has to climb up a steep hill.
The Aventon Sinch is also a heavy bike weighing 68 pounds. It is also a compact and foldable e-bike making it easy to store. The Sinch also has a very modern and sleek look with gentle curves. It is the more aesthetically pleasing e-bike.
The Sinch can be easily folded and unfolded, and the e-bike feels very secure.
This e-bike is more expensive at $1,799.
Which Is Better?
It depends on what you are looking for. The Aventon Sinch is a superior product from speed to range to look, but it may be too cost-prohibitive for many new riders. The Lectric XP is an excellent bike for its value and is perfect for new and casual riders. If you are looking for a superior product, buy Aventon, but if you are looking for a good product at a great value, buy the Lectric XP.