When purchasing an electric bike, riders know the more expensive the bike, the better the components. E-bikes hovering around the $2,000 price point are durable and have top-of-the-line features, parts, batteries, and motors. So, as the old saying goes, "You get what you pay for." It wasn't too long ago that bikes in this price range would cost many more thousands of dollars, but thankfully technology has become better over time, allowing prices to fall.
The Ebike Press team recently scoured hundreds of reviews, consumer, and specification reports to find the best e-bike under $2,000. All our research led us to the RadRover 6 Fat Tire Electric Bike made by Rad Power Bikes. It has everything a rider wants in a great e-bike, including durability, comfort, range, and power. Here are our thoughts on what makes this e-bike top the list of electric bikes under $2,000.
RadRover 6 Plus Fat Tire E-bike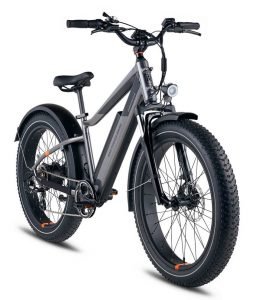 Upon first look at the RadRover 6, it may seem a bit bulky for most riders. However, this is not the case. Featuring an aluminum frame and top-of-the-line parts, this e-bike handles better than some smaller bikes while having the same range. The Kenda fat tires enhance the stability of the bike and provide a comfortable ride, especially when hitting the trails.
The RadRover 6 comes equipped with a 75W motor and a 48V, 14Ah battery. Riders can expect speeds up to 24 miles per hour depending on terrain, weight, and amount of pedal assist. Long rides are no problem for the RadRover 6, with mileages up to 45 miles per charge, so you don't need to worry when tackling those long trails. The max weight capacity is 275lbs, and the bike does not come with a rack. Racks are available for purchase and are easily mountable.
The RadRover 6 provides a comfortable ride even when traveling over rough terrain. The custom front suspension, with adjustment capabilities, has 80 mm of travel and lockout. Riders don't have to worry about losing control when riding the RadRover 6, even in difficult areas, because of the 180mm mechanical disc brakes providing reliable stopping power.
RadRover 6 Plus comes in two models, the high-step and the step-thru. Both offer the same specifications. It just depends on your comfort on which version you buy. Both versions are priced at $1,999, which is an excellent value for such a well-rounded e-bike.
Pros
750W motor has predictable power and runs very smooth
Rides soft over terrain
Visually appealing
Sem-integrated battery is easy to take on and off
Cons
Over bar shifter can feel out of place
Display can be hard to see on sunny days
So, if you are looking for a durable bike that can tackle any terrain you throw at it, the RadRover 6 Plus is a great choice.