Bike Battle: Trek vs Specialized E-bike
No ride can have a conversation about the best electric mountain bikes without discussing both Trek and Specialized Electric Bikes. These companies are two of the most popular e-bike manufacturers and they offer a range of e-bikes for new and experienced riders. Both companies' e-bikes are great but which brand is best for you?
Trek Allant+
The Trek Allant+  is a sleek bike that provides a comfortable and capable ride on any urban street or light trail. It features an efficient Bosch Performance motor with shift detection. The bike frame can fit an optional second battery pack making it a great bike for long trips. It reaches a top speed of 20 mph and has a great range of up to 120 miles.
Pros
Trek Allant is very durable and comes in a variety of sizes to accommodate all riders.
This e-bike features an amazing range of up to 120 miles, making it an ideal product for a long commuter.
Great suspension system with excellent shock absorption makes for a comfortable ride on any city street or light trail.
Trek has a relatively quick 5.5-hour charge time.
Great power assistance that constantly checks your speed and pedal time.
Bosh Purion controller is simple to use.
Lightweight bike at 54 pounds.
Cons 
The motor is loud.
Difficult to swap out tires and requires a hex key wrench.
You can't backpedal.
The price of the Trek Allant+ ranges from $4,000 to $4,500 dollars depending on the model. The Trek Allant+ is an excellent mid-range premium bike for any city rider.
Specialized Turbo Vado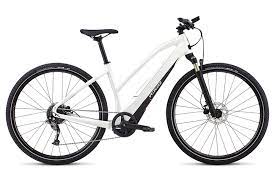 Specialized has long been considered one of the best in the business, so it is no surprise that the company's main commuter e-bike is a top-notch product.
The Turbo Vado is a Class 3 e-bike that can reach up to 28 mph with pedal assist thanks to the top-of-the-line Brose mid-drive motor. The Turbo Vado's high speed makes it one of the fastest commuter bikes on the market. It has a 710 Wh battery with a claimed range of 87 miles.
Pros
Affordable bike for such a high-quality product.
Sleek design that looks less hefty than many e-bikes.
The 2.0 mid-drive motor creates a smooth riding experience.
Faster than most commuter e-bikes.
Cons
The Turbo Vado is an excellent bike with a starting price of $4,000, which is an incredible value for such a high-quality bike.
Which Is Better?
Trek and Specialized have created two of the best commuter e-bikes on the market, but Specialized has created a superior product. Both bikes have similar price points, and the Trek Allant+ can go longer distances. Still, the Turbo Vado has superior speed, durability, and smooth riding experience, making it a product better suited to all riders.