RadRunner VS Lectric XP: The Battle Of Versatile E-Bikes
When you are talking about the most fun, accessible, and versatile e-bikes it is hard to have that conversation and not mention the RadRunner 2 by Rad Power Bikes or the Lectric XP 2.0 from Lectric Cycles. Both of these brands represent the jack-of-all-trades style of e-bike that is perfect for riders looking for affordable options that are fun and accessible to ride. Both these bikes have their pros and cons, but both are great options for a variety of riders.
Overview of the RadRunner 2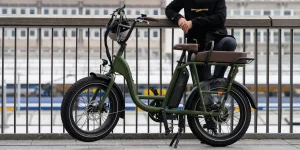 The RadRunner is a great e-bike option because it is essentially a moped and a cargo bike morphed into one e-bike. It is the perfect e-bike for riders looking to carry cargo or have an extra companion tag along for a ride. The RadRunner 2 is a bike that allows for increased functionality while giving the rider an enjoyable and light exercise-inducing ride.
The RadRunner 2 has all this functionality while maintaining an approachable size of 65 pounds. The 20" wheels are smaller than your typical e-bike making it lower to the ground and the modest 3.3 tire width makes the RadRunner 2 easier to maneuver.
Despite its smaller size the RadRunner 2 can carry up to 300 pounds with a rear rack max load of 120 pounds. This is a significant amount for a bike of this size but is a smaller load than your typical e-cargo bike.
The RadRunner 2 goes at a top speed of 20 MPH with a battery life of 25 to 45 miles depending on the user. It takes six hours to fully charge the RoadRunner2.
Overview of the Lectric XP 2.0
The Lectric XP 2.0 is a folding electric bike that is similar to the RadRunner2 due to the fact that it is a fun and versatile bike. It is an affordable bike that is perfect for a ride through town or some off-roading up a steep hill. This bike is serviceable for any type of rider, though expert riders will probably find this bike lacking. The Lectric XP is versatile because it can serve as a commuter bike or as an off-road e-bike.
The e-bike is easy to store due to its foldable design. This is the perfect bike for those that don't have a lot of extra space. The Lectric XP 2.0 can reach ranges of 20 to 45 miles depending on the rider.
The XP can hold a weight of up to 330 pounds but holds less cargo weight than the RadRunner at 75 pounds.
Which e-bike is best for you?
It really depends on what you are looking for. If you are looking for a bike that can carry more cargo, is incredibly durable, and has more power then the RadRunner 2 is the e-bike for you. If you are looking for an e-bike that is compact and has long range, then the Lectric XP is the pick for you.