Finding an affordable e-bike with all the components you want can be difficult, but it's not impossible. To help you find the best e-bike under $1,000, Ebike Press's team looked over hundreds of reviews, guides, and consumer reports on the most popular e-bikes of the year. In our research, we found the best electric bike under $1,000 to be the Lectric XP 2.0.
Lectric XP 2.0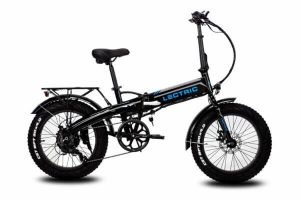 The Class 3 Lectric XP 2.0 20-inch folding fat tire electric bike is built around a 500W motor. The Lectric XP is designed for on-road and off-road riding, and because of it's all-terrain capabilities, the Lectric XP 2.0 offers the best e-bike riding experience for this price range.
When conducting research for this review, we were impressed with the e-bike's durability, power, storability, and overall fun factor.
Considering the smaller-sized battery and the bike weighing 63 lbs. the results for this e-bike was admirable. The XP 2.0 comes equipped with a 48V, 9.6Ah battery, so the range may be a little less than the previous model, but overall, it still has a decent bit of range to it. The company's website states the Lectric XP 2.0 can travel up to 45 miles but don't expect to see that sort of range. When riding with pedal assist, the rider can possibly hit 30 miles, while throttle-only riding will keep the rider around the mid-20 mph.
If you are using the Lectric XP 2.0 on-road or off-road, this e-bike provides an exciting and comfortable experience thanks to its 3-inch fat tires, handling capabilities, and 500W motor. When discussing the Lectric XP 2.0, the Ebike Press team saw this bike as a great one for camping, short commutes, and even college students wanting to get around campus.
Pros
All-terrain capabilities due to its 500W motor and fat tires
Makes for an exciting, fun ride that you won't get from most foldable e-bikes
Easy storability
Cons
Folding the bike can be complicated because of its 63 lb. weight
Battery is on the smaller side
The storability of the Lectric XP 2.0 is excellent due to its foldable frame and is ready for any terrain because of its 6061-alloy frame and thick tires. If you want to adventure off-road and still have the capabilities of commuter riding, the Lectric XP 2.0 is a great electric bike to consider.