As micro-mobility options continue growing in popularity, the e-bike market is now more saturated than ever. Dozens of styles of electric bikes exist on the market for a variety of riders.
Whether you are looking for a commuter bike to get back and forth to work or would like an e-bike to help you climb those tough hills when hitting the trails, going electric is a great way to get out riding.
Gone are the days of motorized bikes being thrown together with an old weed eater motor, a throttle, and a few cable ties. Modern electric-powered bikes have a sophisticated battery and motor technology that continues getting better as the years go by.
Riders can now expect longer mileage ranges from each battery charge and faster riding speeds due to more powerful motors. Navigating the many styles and technologies e-bike brands have to offer can be a difficult process for anyone looking to purchase their first bike or upgrade their existing ride. By looking through hundreds of consumer reviews, brands, technology, and power improvements, we at Ebike Press created a list of the best electric bikes of 2022 by style to let you know the cream of the crop for this year.
Best Fat Tire E-bike: Aventon Aventure
Price: $1,999.00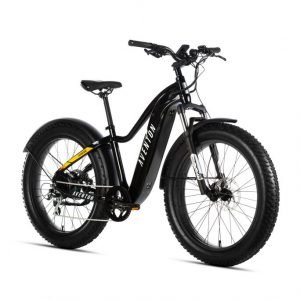 The Aventon Aventure is a rear-hub-motor, mid-range, fat-tire electric bike. Its specially designed frame houses an internal 48-volt removable battery for security and off-bike charging.
Reviewers said the bike has more than enough power for steep hills and fast speeds on flat roads. However, battery life is greatly reduced under continuous full-throttle use. The majority of positive reviews show consumers were happy to pay a few hundred dollars more for higher quality parts and components.
Pros:
Very Fast. Has a lot of torque and applies power evenly
720Wh battery. Slightly larger than the standard size for this style of e-bike
Sleek integrated battery design
Full-color LCD display making it easy to read
Cons:
Metal fenders tend to be loud when riding on rough terrain and when the tires pick up debris
The motor lags slightly when starting to pedal after using the throttle
Best Commuting E-bike: Ride1Up 500
Price: $1,495.00
The Ride1Up 500 needs to be high on the list of anyone looking to get a good e-bike without spending over $1500. Especially those people who are just getting into electric bikes. The 500 Series has many great features for an e-bike in its price range. Along with the great value, owners have Ride1Up's excellent customer support program to lean on if needed.
Pros:
Good components, strong motor, good price
624Wh battery provides power for long-distance rides
8-speed Shimano Acera drivetrain with under-bar thumb shifters
Enough power to provide sustained rides at 28 mph
Comfortable and smooth riding
Cons:
Battery readout is inaccurate. Often says the power has depleted more than it has
Motor lags after you stop pedaling
Best Electric Mountain Bike: Trek Rail 9.7
Price: $7,549.99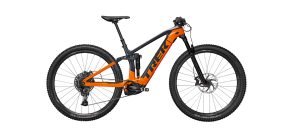 The Trek Rail 9.7 is right in the Goldilocks zone when it comes to high performance and durability. Equipped with quality parts, and a powerful Bosch drive system riders can enjoy tackling rugged terrain as well as steep hills.
The integrated battery system provides a sleek look to the bike. The Trek Rail 9.7 is perfect for anyone looking for a durable long travel electric mountain bike that is built for technical runs and big drops.
Pros:
Removable integrated battery
Tubeless-ready rims and tires
Strong 250W Bosch Performance Line CX Motor
Active braking point. With Shimano MT-520 four-piston hydraulic disc brakes
Cons:
The short seat post doesn't allow for much adjusting
Reduced traction in turn when using the motor
Best Portable Folding E-bike: RadExpand Electric Folding Bike
Price: $1,599.00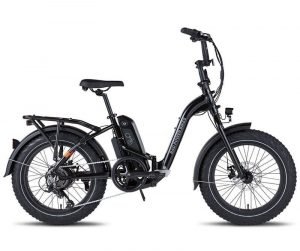 An evolution of the Rad Power's Rad Mini line, the RadExpand loses the chunky suspension fork and added weight of its predecessor. The fat 4-inch tires provide a comfortable ride across different terrains.
The step-through frame shape makes it easy for people of different body styles to get on and off, and helps keep your feet planted firmly on the ground when stopped. This upgraded model of the RadExpand is lighter and comes with a rack suiting commuters.
Pros:
Capable of carrying up to 275lbs
Strong durable frame
Included rear rack
Foldable handlebars to decrease storage space
Step through frame for easy mounting
35-45 miles of range
Cons:
Lacks a speedometer and odometer of the display.
Heavy frame (62.5lbs) may make riding or carrying the bike difficult for some riders
Some components (brake levers, brakes, gearing) have been downgraded from previous models
Best Long-Range Commuting E-bike: HyperScrambler 2
Price: $3,399.00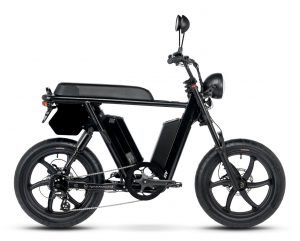 Powerful, heavy, and fast are the best words to describe the Hyperscrambler 2. Riders don't have to worry about losing power on long rides as the HyperScrambler 2 can be equipped with two 52V 19.2Ah batteries. Front and rear suspension provide a smooth ride over pothole-ridden streets.
The integrated key ignition and alarm system provides riders with a sense of calm knowing their bike is protected. Weighing in at 119 lbs., the HyperScrambler 2 is not for everyone and the pedaling may feel cramped for taller riders.
Pros:
Has two batteries providing a long range
Front and rear shocks
Automotive grade components
Powerful, fast
Cons:
Very heavy at 119lbs
Motor may stay engaged without pedaling or using the throttle
Non-adjustable seat
Best Cruiser E-bike: SWFT Fleet Cruiser
Price: $999.00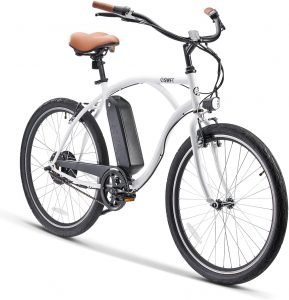 At this price point, it is easy to think you won't be getting much bang for your buck. A great entry-level bike for those looking to ride around town, the SWFT Fleet Cruiser has a solid build and quality components.
Featuring a middle-of-the-road battery, riders can expect around 37 miles of range perfect for running to the store and back or a leisurely ride around the neighborhood. With a comfortable saddle and curved handlebars, the SWFT Fleet Cruiser provides a great ride, especially for those under 6 feet tall.
Pros:
Fast with speeds up to 20 mph
Thick, durable frame
Battery lasts over 25 miles per charge
Comfortable riding
Interchangeable battery
Cons:
Must be at least 5 foot seven inches to ride comfortably
Large frame requires more storage space
Single-speed mechanical gear
Rim brakes
Best Step Through Electric Commuter Bike: RadCity 5 Plus
Price: $1,999.00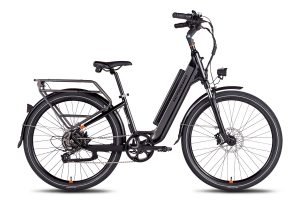 The 750W retuned motor provides hill-defeating power and torque for riders of all sizes. Equipped with a 48V 14Ah battery the RadCity 5 Plus allows for 11% more riding distance than its predecessor. Available in only one size the adjustable stem allows riders to adjust the seat to a suitable height for riders between 5'4" and 6'5".
Pros:
55 miles of range
750W motor provides 58Nm of torque for improved riding on steep hills
Adjustable stem to suit a variety of rider heights
Lockable and removable battery
Fitted rear rack
Cons:
Loose cables on the front cause a messy bundle
Display can be difficult to read in direct sunlight
Hydraulic brakes lack modulation.
Best Cargo E-bike: Blix Packa Genie
Price: $1,999.00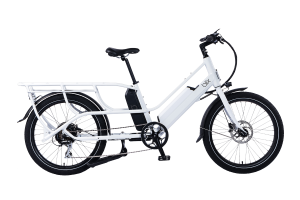 This Dutch-styled e-bike is perfect for riders carrying large loads from point A to point B. Many cargo-style electric bikes feel sluggish but the 750W motor packs the torque needed to carry heavy cargo. The sleek design combined with boosted power and performance makes riding this bike a dream.
Powerful hydraulic disc brakes allow for quick and confident braking even when carrying cargo. When riding the Blix Packa Genie riders will never have to worry about range as the 614Wh battery allows for 40 miles of travel while the upgraded 1,228Wh battery provides up to 80 miles of range.
Pros:
Optional dual-battery system and a strong motor
The step-through frame and 24-inch wheels provide a low center of gravity making it great for carrying cargo
The motor has more than enough power to carry the rider and the heavier loads
Great value and great features for the price
Cons:
Overly long chains can make it difficult when riding in bumpy conditions
Best Utility E-bike: Rad Power Bikes RadRunner Plus
Price: 1,899.00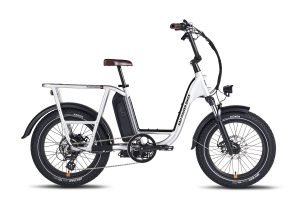 An affordable utility bike for entry-level riders, the RadRunner Plus provides four levels of pedal assist and throttle to traverse city streets and low-level trails. Unlike most e-bikes, the RadRunner Plus can carry passengers. A passenger kit is provided by Rad Power Bikes for this upgrade.
The bike comes in one size and has an easy-to-adjust seat and handlebars. Most riders found the flat seat uncomfortable, however, after-market options can help. The 750W rear hub motor provides plenty of power and torque to accelerate up to 20 miles per hour on flat terrain.
Pros:
Powerful 750W motor provides enough power for steep trails, hauling gear, and riding fast
The low frame design provides a low center of gravity allowing for better handling
672Wh battery has long-lasting power
Well-designed frame that works great for commuting or hauling gear
Cons:
Seat is a bit wide. Rubs your legs when pedaling. Otherwise, comfortable when using the throttle
Mechanical brakes. Hydraulic brakes would have been a nice upgrade to see
Best Road E-bike: BULLS Alpine Hawk EVO
Price: $5,799.00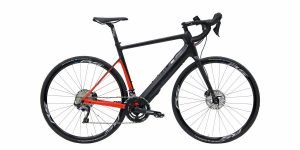 The super lightweight BULLS Alpine Hawk EVO lets the rider forget they are riding an electric road bike. The powerful 255W Fazua Evation motor helps on those tough hill climbs and acceleration after taking a tight curve. The Alpine Hawk EVO handles like a standard carbon road bike.
The riding position geometry is comfortable for average-sized riders. Durable 160mm disc brakes provide comfortable braking and with a vertical range of 3,280 feet, braking is important when coming back down those hills. Costing over $5,000 the price may be steep for some, but the quality, durability, and excellent components prove the price is right.
Pros:
Smooth ride over rough roads
Matching Ultegra 11-speed groupset and hydraulic brakes compliment the "ride it everywhere" nature of this bike
Equipped with the light, quiet and responsive Fazua drive pack
The drive pack is removable so you can ride it as a traditional road bike
Cons:
Only available in two sizes; 54cm and 58cm
Touchpad remote on the downtube takes time to get used to
Riders will tell you the best electric bike is the one you're most excited to ride. We at Ebike Press couldn't agree more. While we're sure there will be a lot of discussion as to why we left certain bikes off the list, these are the 10 electric bikes we are most excited about at this time.
This is not a comprehensive list of every e-bike, but we believe the bikes on the list represent the most popular styles and are a good representation of the best on the market right now.