What is the Fastest E-Bike?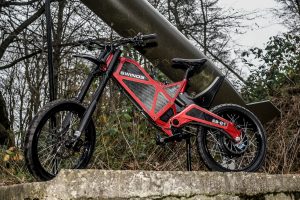 If you are an adrenaline junkie and enjoy fast speeds the SWIND EB-01 is the electric bike for you. This is the fastest electric bike on the market today. Designed by a tech team involved in developing products for Supercar and Formula One teams, you know you can expect high-end specifications. With an extreme 15kw of near-silent motor power, it is no surprise that its official top speed is 60 mph. Most high-speed pedelecs have a 750W motor. The developer has claimed that, with some modification, it could push the bike to 100 mph but can't due to insurance reasons.
With speeds such as these, you have probably thought about how long your battery will last and whether this is going to affect your ride time. The battery in the SWIND EB-01 can provide you with a range of 200 miles and under regular use should last around seven days before needing a recharge. This bike also features regenerative braking which means you can recoup some power when cycling downhill or slowing down.
The SWIND EB-01 has been designed for both off-road and on-road use and is the perfect bike for tackling any terrain.
When it comes to price, this expensive e-bike is available in two versions: a standard model which retails at $15,000 or a top-of-the-range limited-edition version that costs up to $22,500. This is a lot of money for an e-bike but if you are looking for speed you won't find a better bike.