Best E-Bike Conversion Kit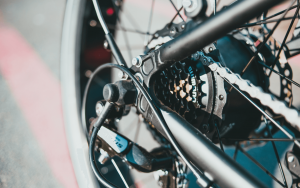 Nowadays, you can convert any old bike into an e-bike. With a conversion kit, you can add a motor, a rechargeable battery, and all kinds of new features to your bicycle. It's easy and there are plenty of kits out there for you to choose from.
We wanted to find the best e-bike conversion kit because it makes traveling so much easier. Biking is a great way to get around and an electric bike can help you go further on your commute, but there are extra benefits too: E-Bike conversion kits add convenience by getting rid of hills, making biking more accessible for people who have joint issues, and they add a boost for the experienced biker.
When we were looking through all these kits, we had some ideas in mind: we wanted one that was easy to install with no special tools, it should work well on different kinds of terrain (not just regular roads), and it needed to be affordable. There were a lot of kits that only worked with certain bikes, and that's no good if you don't have one or want to use it with your old bike. Most importantly we wanted something reliable. So, we decided to do the research for ourselves and find the best e-bike conversion kit available right now.
We based our rankings on different criteria: how easy it was to install the kit, the quality of construction and materials used in making it, and customer reviews from people who have bought similar products before. We also looked at affordability because you shouldn't have to pay more than what the parts are worth. That's why we made sure there was a balance between affordability, quality, and ease of use in our rankings so you can find something that works for your budget and needs.
After studying many different conversion kits on the market our team determined that the Bafang BBS02 750-watt mid-drive electric motor kit met all our criteria.
Conversion Kit Specifications
The Bafang BBS02 750w motor mounts on the bike's bottom bracket and replaces the front derailleur and crankset. The Bafang mid-drive kit comes already assembled so you don't have to worry about putting the pieces together yourself which means all you have to do is unpack it, install it on your bike and you are ready to go.
The Bafang motor kit comes with your choice of battery. Battery configurations are available in 48-volt and 52-volt power sizes. The battery installation process is just as easy as the motor. Simply install the included battery bracket into the existing water bottle holder mount. Plug in the motor senor wires and place the battery in the bracket. Use the included key to turn on and you are ready to ride.
The Bafang BBS02 has a powerful motor that provides up to 2000 watts of power with 45NM torque for fast acceleration on hills and can reach speeds up to 30 mph. This makes it great for commuters who want to get around town faster or people who just love biking. The Bafang BBS02 is very lightweight at 22 pounds and compact so you can carry it upstairs or into your office with ease.
The mid-drive motor works with almost any size frame (26-inch wheels or larger) so if you have an old mountain or road bike lying around that you aren't using then all you need is this kit for a new life of commuting. Plus, the motor is so quiet you won't even know it's running.
Bafang Conversion Kit Price
The price for the Bafang BBS02 mid-drive motor kit starts at $799 but can be found at lower price points if you do some digging. The price goes up if you decide to purchase different add-ons such as upgraded LCD displays, electronic brakes, and sensors that allow you to keep your existing disc brakes.
What Owners are Saying
When we looked through all the customer reviews to determine how well this kit works, we found that people loved it for many different reasons. Their main concern was about ease of use and installation, so they were happy with how easy it was to install on their bike without any tools or special knowledge required. People also appreciated its lightweight design which made it easy to carry around.
The only negative was that some people had trouble with the battery but this is an isolated instance so you shouldn't have any problems installing it on your bike or using it for its intended purpose.
We think the Bafang BBS02 mid-drive kit would be a great choice if you are looking for something that is affordable, lightweight, and easy to install. For the price you are paying it offers a lot of value, so we recommend checking out customer reviews to see how well it works for yourself before making your final decision.