The E-Bike Act : Tax Credit Proposal
E-bike tax credit working its way into $3.5 trillion reconciliation bill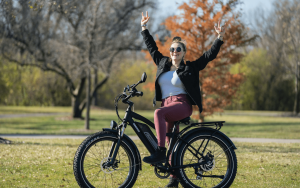 A tax credit for e-bike riders is slowly making its way into Congresses' $3.5 trillion reconciliation bill.
The E-Bike Act was recently updated by the House Ways and Means Committee and the proposal's current iteration would cut the originally proposed tax credit in half as well as establish a means-tested phase out for taxpayers at a certain income level.
The proposal as it is currently written would allow a "15 percent refundable tax credit for qualified electric bicycles." If passed e-bike buyers could claim a credit of up to $1,500 for any e-bike purchased for service in the United States. The proposal would allow riders to claim one e-bike for individual taxpayers while allowing joint filers to credit up to two e-bikes.
The e-bike tax credit would phase out at $75,000 adjusted gross income for individual taxpayers, $112,500 for heads of household, and $150,000 for married filing jointly.
The proposed tax credit would not apply to any e-bike worth more than $8,000. For an e-bike to qualify for the credit, the manufacturer must report the bicycle's vehicle identification number to the Treasury Department. The taxpayer who purchased the e-bike would then have to report that VIN number to claim the credit. It is unclear if the tax credit would apply to e-bike riders who purchased a used e-bike.
The current language of the bill would exclude any e-bike with an electric motor of 750 watts or more which could be an issue since many e-bike manufacturers set their maximum motor power to 750 watts. E-bikes with 750 watts or higher are also most commonly used by riders who weigh over 220 pounds. The current wattage limit could exclude a number of skilled e-bike riders who need higher wattage for off-trail biking as well as anyone who needs a bigger battery due to their weight.
The E-Bike Act was introduced in the House of Representatives in February by Rep. Jimmy Panetta (D-CA). Senator Ed Markey (D-MA) and Senator Brian Schatz (D-HI) introduced a Senate companion bill in July, a common move among lawmakers in order to more quickly push similar legislation through both chambers of Congress.
The original proposal called for a 30 percent refundable tax credit which is currently cut in half.
The E-Bike Act is a small portion of a larger $3.5 trillion federal plan to spend on climate initiatives, paid leave, child care, education, and healthcare.
Senator Schatz in his introduction of the bill said Americans need to do everything they can to transition into a clean energy economy and that means changing the way we get around. He went on to say that e-bikes were a low-cost option to reduce transportation emissions.
The bill is supported by the trade group and advocacy organization PeopleForBikes who publicly applauded the measure as a great way to make e-bikes a competitive transportation option and reduce carbon emissions.
The fate of the E-Bike act is still up in the air as Congress is currently negotiating the terms of the reconciliation bill.